Reaching future decision-makers with vibrant sustainability content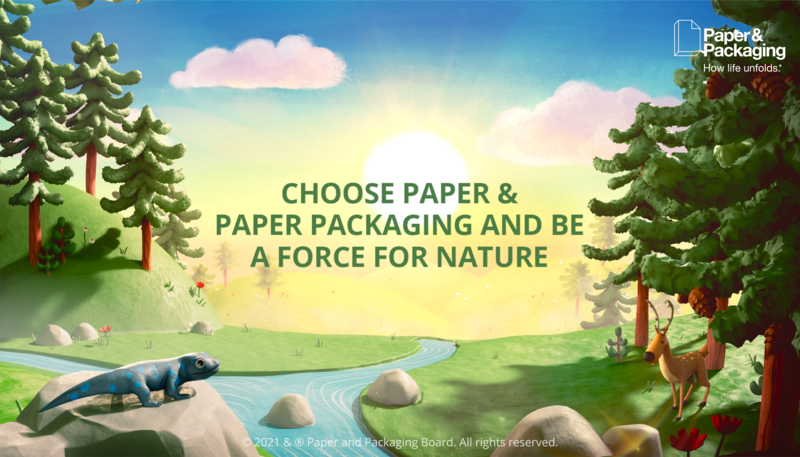 August 9, 2021
In the wake of Covid-19, we saw and continue to see an increased reliance on e-commerce like never before — and just like everyone else, I have piles of broken-down boxes by my door, ready to be recycled. I look at these corrugated boxes and I see our industry's sustainable, circular economy at work. Unfortunately, the same cannot be said for many consumers, especially those of younger generations, who have not been educated about the sustainability of our industry and its products and are increasingly worried about the environment.  This is especially true for younger Millennial and Gen Z audiences, with 69% of Gen Z shoppers committed to making eco-friendly purchases part of their consumer behavior.
This is what the Paper and Packaging Board's new sustainability initiative aims to address.
Just launched mid-July, our newest initiative communicates a number of important messages: It shows consumers what happens to their recycling, educates about important data, including the fact box fibers can be reused up to seven times, and showcases paper innovations that are replacing plastics. In addition, the initiative is set to correct misperceptions, so consumers feel more positive about the health of U.S. forests.
At the center of this initiative is a content-rich, animated microsite, PaperForNature.com.  New imaginative videos, colorful digital banners and print ads targeting the Paper and Packaging Board's (P+PB) custom consumer audience, lead back to this site, encouraging audiences to learn more. Designed to appeal to younger 18-34-year-olds and those aging into our "Expressives" target demographic, the new creative work brings to life a world awash in color and optimism.
Made in partnership with New York City content marketing agency, Manifest, this fun, new creative can be found across our full range of social media channels, including our newest platform, TikTok. The advertisements will be in magazines such as US Weekly, Bloomberg, Smithsonian and Rolling Stone, as well as connected (streaming) TV and podcasts.
New key performance indicators (KPIs) will measure preference for paper vs. other materials, the degree to which consumers see our companies and industry as part of the environmental solution and what kind of headway our program is making to mitigate concern about the health of our forests.
I can't wait for the day where everyone looks at broken down boxes and sees the thriving circular economy that puts the planet first. Ultimately, we want consumers to know that when they choose paper, they are a force for nature.