America Recycles Day Reminds Us That Paper Companies Put Planet First At Every Stage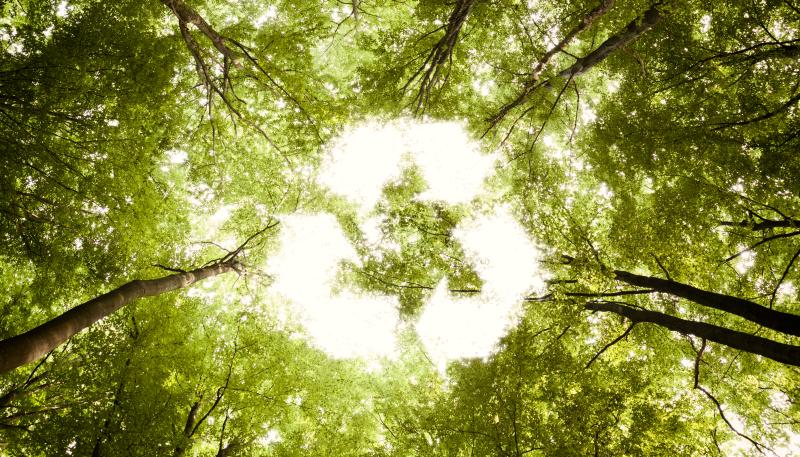 November 10, 2021
America Recycles Day is coming up on Monday, November 15th and our new recycling messages could not be better timed to strike that chord with consumers.
Started in 1994 by the Texas Commission on Environmental Quality to educate the state's residents and encourage recycling, America Recycles Day was eventually adopted by all 50 states, who together with nonprofit and industry partners host thousands of events throughout the year.
Of course, overall recycling rates have been on an upward trend for the 50 or so years consumer recycling has "been a thing" in the U.S., by one estimate increasing from about 7% in the 1960s to 32% today. But not all materials are created equal. The trajectory of paper and packaging—even with the usual hiccups and occasional plateaus—has been even more impressive. As many of you reading this already know, paper's overall recycling rate has been just shy of 70% percent, and corrugated box recovery is routinely in the neighborhood of 90%. This should not come as a surprise given the significant investment by paper companies in new recycling facilities and technologies. According to AF&PA, the industry has broken ground on or announced $5 billion dollars in manufacturing infrastructure investments from 2019-2023 to meet consumers' recycling needs in the years ahead. This infrastructure is the whole ballgame for resource recovery in our industry. And it's also where some of the most exciting investment and innovation is happening right now.
AF&PA's 2021 Sustainability Award winners reflect the breadth and depth of this investment.
At the facilities level, award winners include Georgia-Pacific's Quilted Northern brand reducing water and energy usage by 30% each. Essity is improving its water quality and conservation, with one mill reducing its freshwater use by 20%. And New-Indy is improving the repulping systems at its Ontario, California mill, increasing capacity and adding new screening technology that helped reduce waste leaving the mill by 5,500 tons and keep an additional 10,000 tons of mixed paper out of landfills.
Recovery facilities are only as good as the materials we send to them. This year's award winners included Sonoco Alloyd's new recyclable alternative to traditional blister packaging, made entirely from renewable resources. And Georgia-Pacific introduced a 100% recyclable paper-based mailer and the first hot cup made from 100% post-consumer recycled fiber.
Another AF&PA Sustainability award winner, WestRock, teamed up with Domino's Pizza and others to tackle misinformation about pizza box recycling with the goal of recovering as much of the 600,000 tons of fiber used in pizza boxes each year as is possible.
Even Green Bay Packaging's award-winning work on sustainable forestry is part of infrastructure broadly understood. They partnered with independent certifiers to develop a program specifically for smaller landowners. This will give families who may only own a few hundred acres access to the science, expertise and long-term planning resources critical to responsible resource management.
America Recycles Day is also a good time to recognize the companies and sustainable packaging designs awarded at the Paperboard Packaging Council's 2021 packaging design contest, otherwise known as "the Oscars of packaging design." WestRock, Graphic Packaging, Menasha and Ellis Packaging took home honors for design innovations in can collars, apple jackets and cartons, cold food trays, sushi containers and oatmeal pop-up cups to name a few.  
So on America Recycles Day let's celebrate the continued investment by the paper and packaging industry in sustainably-designed product packaging and a modern recycling infrastructure that allows us to keep up with consumers and do our best for the environment.