Letters From Quarantine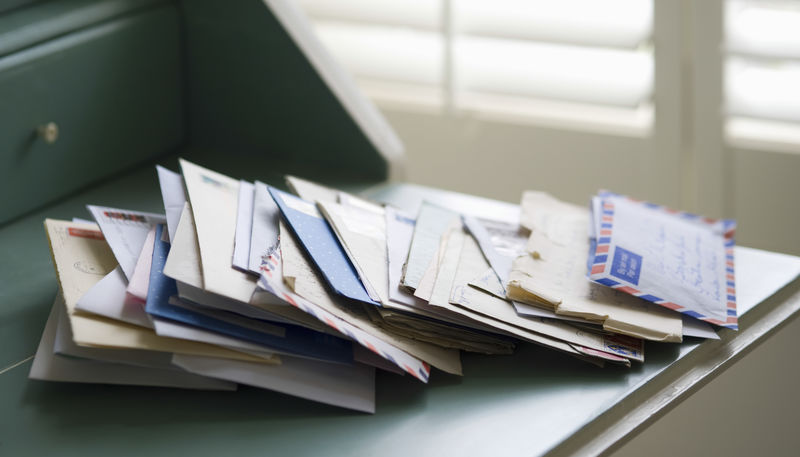 June 22, 2020
The coronavirus pandemic has forced hundreds of millions of people around the globe to keep their distance for months on end. In spite of that, people have found creative ways to stay connected throughout their isolation. In Italy, people sing opera from their balconies. In the United States, it seems, we're writing letters.
Instead of dinner or drinks with friends, Saturday night at home has become an opportunity to stay in touch with loved ones the analog way, with pen and paper. One correspondent at Travel + Leisure described her ritual like this:  "I poured myself a glass of wine, lit a candle, and set up stationery cards, stamps, and pens and set out to connect with each of my friends through some old-fashioned letter writing."
She's not alone. According to the U.S. Postal Service, sales of stamps have been "noticeably greater" during the lockdown than they had been before the virus struck.
Some of these are online sales taking the place of face-to-face purchases and others are the result of people buying stamps as a way to support the Post Office. But there are many additional stamps being bought by others who just want to send a thoughtful note or message of hope.
And that's corroborated by greeting card companies like Paper Source. Their CEO recently told Bloomberg that sales of their greeting cards have soared by 1,200% since social distancing measures went into effect in March. That includes a 10-fold increase in Mother's Day sales. To take advance of the surge, the company has even added designs for the quarantine era, like expressions distanced sympathy and appreciation for health care heroes.
Of course, none of this is really new.  Back during the global influenza epidemic a hundred years ago, people recorded their thoughts and emotions on stationery or typewriter paper and sent them to family and friends. This letter from the National Archives webpage devoted to the 1918 Flu is written by a young nurse taking care of dying soldiers and it's a mix of starkness and light that you might expect from a teenager making sense of a tragic time.  It's just a letter . . . but it's also a snapshot of history.
We're living through our own historic moment. Which makes now the perfect time to get out a pen and paper and send something authentic and sweet through the mail. It will surely be appreciated by the lucky recipient, and maybe be discovered by a descendant a hundred years from today.  So make it good.   
And if you need more stamps you can buy them online at https://store.usps.com.