Be a Papertarian! Creating a Movement to Choose Paper-Based Products.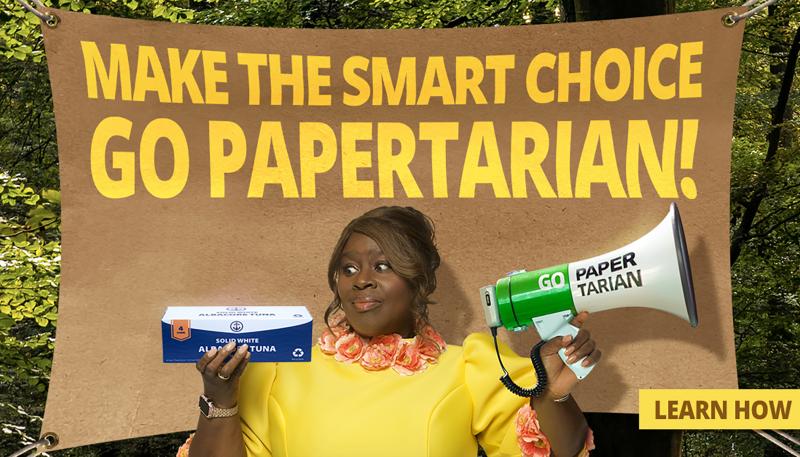 April 5, 2023
A bold new movement has begun. It's the papertarian movement kicked off by our new campaign that encourages people to live a paper-based lifestyle.
We are introducing a new word to capture this lifestyle— a papertarian. The paper industry is full of papertarians, and you may already be one or aspire to become one.  A papertarian is someone who chooses paper products, including those packaged in it, practices proper recycling, and understands the positive impact that small, everyday choices have on our forests and the environment. 
Think of it like this. A vegetarian relies on plant-based food to sustain their bodies. A papertarian relies on the renewable nature of plant-based paper and packaging products to learn, work and protect products they rely on for a lighter footprint.
Our new ads bring attention to the importance of choosing paper and packaging products over other materials because it comes from a renewable resource that can also be recycled into a new product. The ads tell the paper industry's forest management story in a new way – getting consumers to think about paper versus plastic packaging when they purchase and how the paper can be recycled into something new.  
Comedian and actress, Retta, is our first official papertarian. She uses her dry and sassy humor to educate and change consumer behavior. Retta is best known for her roles on Parks and Recreation, Good Girls and Ugly House in America.  
The ads and accompanying social, digital and website content, show a range of the industry's innovative products and focuses on paper use at home, purchasing at the grocery store, curbside recycling and how using the products helps plant new forests.
Our planting story here in the U.S. is well-known in our industry because paper manufacturers work with private forest owners to grow and maintain forests at a rate nearly double the volume needed to make the paper, packaging and boxes we rely on every day. This means that when you choose paper, you're actually helping to support the growth of our forests. Additionally, when you recycle, that product goes on to live more lives and gets transformed into additional paper products.
As a papertarian, I take great pride in my recycling bin being fuller than my trash can.  And that  my magazine basket is filled with catalogs from my favorite brands and also new ones for which I have not yet developed a relationship.
I encourage everyone to be a papertarian and spread the message — to make the thoughtful decision to choose paper-based alternatives to plastic. Look for them in the grocery store, in your home, anywhere you have an opportunity, and then recycle. It's simply the smart choice to make for our forests and planet earth.
Join the Movement. Spread the Word. It's the Smart Choice to be a Papertarian!